Denver Horror Collective | Member

---
On episode #40 of Josh's Worst Nightmare Oddcast, host Josh Schlossberg sprouts fangs with Erica Hoffmeister, author of ROOTS GREW WILD and LIVED IN BARS, as they drain the essence of vampires.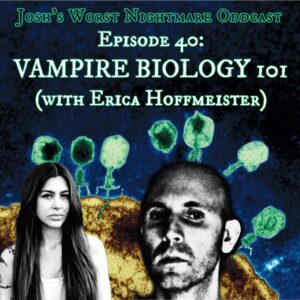 "I'm an Elder Millennial so my whole adolescence was essentially defined by the WB (network) and Buffy (the Vampire Slayer) was someone that I connected with as a preteen… so it really was my coming of age. Just having this kickass, but still very feminine, heroine that was the literal savior of the world. I wanted to be her, but I was also more confident as myself because of her."
---
Amanda E.K. soft release of The Risk it Takes to Bloom | Bookbar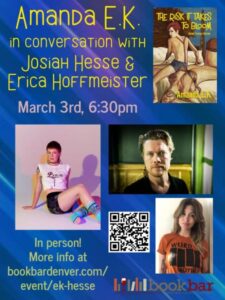 ---
Featured Reader: Paper Teller Diorama Book Celebration #6
The sixth in a series of monthly readings celebrating great weather for MEDIA's latest anthology, Paper Teller Diorama. Recorded January 22, 2022.
---
Featured Poet, Interview, November 2021 |CATHEXIS Northwest Press
"CNP: Can you remember the first poem you read that made you fall in love with poetry?
EH:  When I was 15, I clipped William Carlos Williams' poem "The Act" from an old book of poetry I found at a yard sale and carried it with me everywhere. I used the clipping as a bookmark, slipped it in my clear-view school binder, framed it and put it at the head of my captain's bed…. I thought those eight simple lines of poetry were the most honest, romantic, and beautiful thing that I had ever read. The brevity of poetry was fascinating to me—how I could read something so small and simple and feel so much sadness and joy all at once. And yes, I also put that poem to song—I can still hum the tune."
---
Editor Interview, January 2021  | South Broadway Ghost Society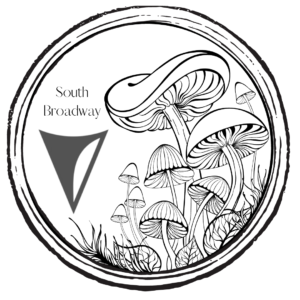 "You can't disconnect writing and art from my identity. I don't have memory that exists before I read and wrote stories. Books, music, movies—through these lenses are how I understand meaning in living. I simply can't imagine me as a person without the conglomeration of created works of all artistic genres that live and breathe inside me. I basically contain a vast universe of song lyrics, film trivia, and sad poems all wrapped up in musty old pages of books."
---
Pandemic Tales Podcast, Episode 9 | Radio Red Rocks
RR: "How do you feel like the pandemic has affected you as a teacher?"
EH: "Basically, everything I thought of myself as a teacher is just… gone. I've always thought I was a progressive educator, but now it's like – wow, all this [the system] is bullshit… Everything I thought I was doing right, I'm realizing I could have been giving my students more grace this whole time."
---
Sundress Publications | Project Bookshelf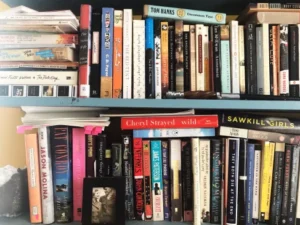 "My collecting was fine as a single person, but as a wife and mother, I've had to parse my collections down. My books, however, I have the hardest time minimizing. How could I betray The Outlaw Bible of American Poetry that a regular at a bar I worked at gifted me over a decade ago that I've never cracked open? How could I abandon the used copy of The Complete Works of Oscar Wilde that I absolutely despised reading in grad school and suffered through with a disappointing B+? What if my daughters prefer one edition of Peter Pan over another, and I only have one version?"
---
First Saturday Poetry | Bookbar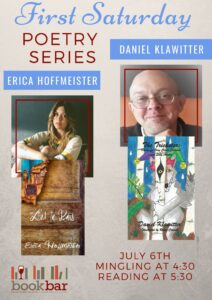 ---
Meet Our New Editorial Intern: Erica Hoffmeister | Sundress Publications

"My paternal grandmother was an avid reader and walking dictionary; she'd have me practice using words in sentences and do crosswords out of the Sunday paper with her (always with a pen, never a pencil). At bedtime, she'd read me Agatha Christie, and I'd sway into dreamland as a too-young child, images of bloody-cat prints and mysteries filling my head. In contrast to that particular librarian, my grandmother never treated me too small, not smart enough. What I soon noticed was that the stories and characters in the books I read never did, either"
---
The Story Behind the Story: "The Mission Inn" | Fiction Southeast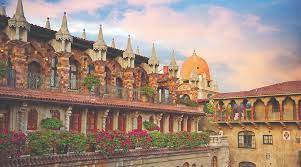 "It's essentially a smorgasbord of many elements from my childhood growing up in Riverside, California… but really, it is about how memory and nostalgia fail us when revisiting time and places as adults. The Mission Inn is a real place, and I really did go to this bizarre 80s theme night there as an adult and think how strange it was to be back at a place that used to represent a large part of my childhood–but the narrator and circumstance is a fictionalized version of that experience and the conversation that occurs at the bar never really happened. That is the point and heart of the story, though–how we chase a certain high of nostalgia, no matter the cost of our perspective versus truth."